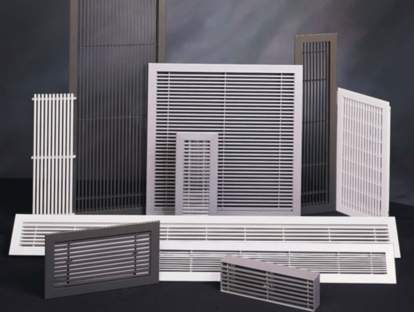 Grilles and Registers
Air Supply and Exhaust.
We sell both custom made rectangular grilles and registers as well as stock round registers for both supply and exhaust applications.
Made to order grilles and registers:
All of our Dayus grilles are cut to size, aluminum construction, rustproof and only 40% weight versus steel. Powder coated superior painted finish has frames protected by an easily removable polyfilm. Finishes include white, silver, bronze or mill.
Round grilles:
Plastic and metal supply and exhaust grilles. Some grilles include backdraft dampers.
Just select what you need and remember to call us if you have any sizing questions.
Some things to consider:
When sizing grilles remember:

Supply or exhaust application? It matters for some grilles.
Dayus grilles are sized by the hole they fit into.
Filter grilles are openable, should you need access or want to install a filter.
Click Below to Grille Families